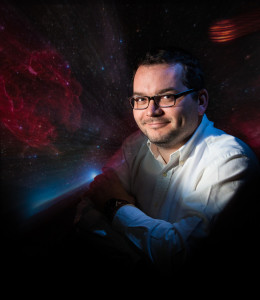 Daniel Apai is an astrophysicist specializing in studies of the formation and atmospheres of extrasolar planets with the long-term goal of identifying planetary systems capable of supporting life. He is working on the interface of planetary sciences and astronomy and holds a joint appointment as Assistant Professor at the Steward Observatory and the Lunar and Planetary Laboratory at The University of Arizona. He is the Principal Investigator of the Project EOS: Earths in Other Solar Systems, a major NASA-funded astrobiology research team exploring the potential of nearby planetary systems for supporting life.
He is an author of over ninety refereed research papers and has edited and consulted on
multiple books. He is principle investigator of major programs on the Hubble and Spitzer Space Telescopes, and also regularly uses the largest ground-based telescopes for his studies. He regularly serves on professional committees, both US and international.
Daniel Apai is currently serving on the NASA Exoplanet Exploration Program Analysis Group's Executive Committee (EXOPAG EC), and the Steering Committee of the NASA Nexus for Exoplanet System Science (NExSS).
Education and Training
Daniel Apai has studied Physics at the University of Szeged in Hungary, and obtained a PhD in Astrophysics from the University of Heidelberg for research carried out at the Max Planck Institute for Astronomy.
He has been a postdoctoral researcher at the University of Arizona with the NASA Astrobiology Institute. He moved to the Space Telescope Science Institute asnassistant astronomer in 2008, where he was member of the Science Policy Group. In 2011 he moved to the University of Arizona as assistant professor of astronomy and planetary sciences.
Daniel is the lead editor of the book Protoplanetary Dust and a consultant for the children's book Stars. He has organized and co-organized many international conferences and workshops, several of which has focused on developing the links between studies of extrasolar planetary systems and the Solar System, in context of astrobiology.
His work has been featured in various online and printed media.
In his free time he enjoys landscape photography.
Publications: 
at the NASA ADS server: ADS Publication List